Harriers ENews November Ė December 2016

Welcome to the Harrier ENewsletter. It has been quite a while since our last publication but we intend to publish every other month henceforth. Please forward this edition of the Greater Springfield Harriers ENews to your fellow club members as there are several items of importance.

Voting Now Open to Select 2017 Grand Prix
Voting is now open to select the slate of races for the USATF New England Road Race Championships for 2017. Only current USATF New England registered members are eligible to vote. Go to the Association web site at usatfne.org for instructions on how to cast your ballot. The only western Mass race bidding is the Amherst 10 miler on February 26th and we strongly suggest you vote for that race as last year there were no races in our area. Vote carefully, considering location, date (compare to other race dates as listed. Our Holyoke marathon is the first Sunday in May, ie. May 7th, prize money offered, entry fees, etc 10K, another quality race. Voting closes Wednesday, November 23rd at 11:59 pm. TODAY!
USATF National Club Cross Country ChampionshipsSaturday, December 10, 2016, Tallahasee, FL.

Once again the Harriers will be supporting our teams at this annual event which will be in sunny Florida this year. We have exceptionally strong menís masters (over 40), senior (over 50) and veteranís teams in super secret training for this event. Anyone interested should contact Fast Feet or Pete Stasz at the below listed phone numbers. The Harriers will reimburse reasonable airfare and pay for the entry fee. Please note that the entry fee skyrockets after November 25th so please let us know before then if you are interested. For more detailed information check out the USATF web site at www.usatf.org.
Boston Marathon Entries
The Harriers have again been granted special invitational Boston Marathon entries, four this year, which can be used for either qualified runners who have missed the entry deadline (already passed!) or those club members who do not meet the qualifying time standards. We award these numbers according to which club members helped the club the most during the past year either through volunteering at races or competing for the team. Please contact Fast Feet if you are interested. Note the entry fee for these special entries is $355 this year and the entry deadline for these entries is Friday, January 13, 2017 and will be strictly enforced.
37nd Annual Snowstorm Classics
Begin, Saturday, December 3rd
Season #37 begins in just a couple of weeks! Flyers are available at Fast Feet and will be handed out at the Talking Turkey race in Holyoke. Check out this yearís themes on our web site and help us spread the word about these races, one of our most successful endeavors. Weíve never cancelled so you can be assured that if you can get to Forest Park, there will be a race. Again club members who break an age record will receive a fifty dollar gift certificate to Fast Feet. New this year is a Fast Feet gift certificate to a random Harrier finisher in each race. Other prizes include Springfield Symphony tickets, Majestic Theater tickets, and refreshments galore. All for only five dollars, and only two dollars For 14 and under! Especially note the Reunion Race on January 7, 2017. As in Harrier reunion, so spread the word to any Harrier you know who has been missing in action lately or for any length of time. Note weíve deliberately scheduled this for one of the 5K races.
Annual Harrier Banquet and Meeting Scheduled for
Saturday, January 28, 2017
Block off the date now! Our annual Harrier extravaganza is scheduled for Saturday, January 28, 2017 at 6:00 pm at the Cavalier Restaurant in Chicopee. Tickets are only $20 for an all you can eat smorgasbord of roast chicken, roast beef, penne with choice of sauce, tossed salad and more. The New York Times has called it the social event of the year, so donít miss it. Call Fast Feet to make your reservations now. As always check our web site at www.harriers.org or call Fast Feet (231 Elm Street in West Springfield, phone 734-0955 or 24 Elm Street in Westfield, phone 485-0058).
Fast Feet Inc
We had several new footwear models arrive this week at our Fast Feet stores. The Saucony Guide 10 a great lightweight stability model, Nike Sturcture 20 and Brooks Adrenaline 17 our number one selling model over the last few years. Let us know if you would like us to put your size aside to try them out. Please feel free to call or send us a message if you have any questions.
Please check out Fast Feet for the
BEST SERVICE AND LOWEST PRICES!
Fast Feet Inc
231 Elm Street
West Springfield, Ma 01089
413-734-0955
You can also find us at:
harriers.org
https://www.facebook.com/pages/Fast-Feet-Inc/150424524977652
https://www.instagram.com/fastfeet
Part-time sales position:
Fast Feet is currently seeking a part time sales
associate. You will be required to work 15-25 hours per week. The hours we are looking to fill would be Wednesday, Thursday and Friday from 5-8. You will also be required to work Saturday and Sunday. Knowledge of running and sales preferred. A positive and confident attitude a must! Pay rate based on experience. If you love running you will love working for Fast Feet.
Apply in person at 231 Elm St., West Spfld., or send resume to fastfeetinc@comcast.net
USA Masters 5K Road running Championship
October 2, 2016
http://www.usatf.org/Events---Calendar/2016/USATF-Masters-5-km-Championships/Results.aspx
        USATF NATIONAL MASTERS MEN'S 50+ TEAM RESULTS
----------------------------------------------------------------------------

  1.   49:39 GREATER SPRINGFIELD HARRIERS, INC       (  16:33)
==================================================
  1    15:57  Nat Larson            54 Amherst              MA 
  2    16:37  Francis Burdett       51 Worcester            MA 
  3    17:05  Ron Lombardi          52 Southington          CT 
We wanted to give a shout out to our Greater Springfield Harrier masters 50 + Team. They won 1st place for the Greater Springfield Harriers over the weekend. Great job guys you are an inspiration and thanks for supporting the team.




Monday, July 4, 2016
click here for more information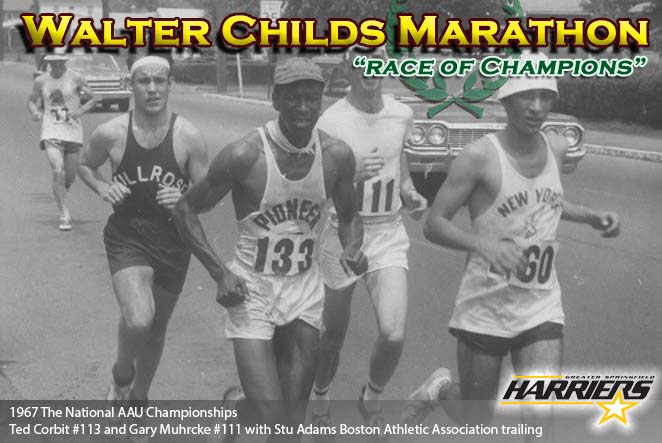 54th Walter Childs Marathon and Half-Martathon
Sunday May 1st
2016 Results here

USATF Masters Championships
Dedham, MA, April 24, 2016
http://www.ramble.org/index.cfm?pid=11164
The Greater Springfield Harriers had an awesome showing today at the James Joyce Ramble. We scored a fourth place in the menís 40+ and a first place in the menís 50+. If anybody has pictures let me know and I will post them. Great job guys!
----------------------------------------------------------------------------
4. 1:50:31 GREATER SPRINGFIELD HARRIERS, INC ( 36:51)
==================================================
1 34:28 Kent Lemme Pittsfield MA GREATER SPRINGFIELD HARRIERS

2 36:20 Robert Landry Ludlow MA GREATER SPRINGFIELD HARRIERS
3 39:43 Mark Staples Holyoke MA GREATER SPRINGFIELD HARRIERS
-----------------------------------------------------------------------------
1. 1:45:01 GREATER SPRINGFIELD HARRIERS, INC ( 35:01)
==================================================
1 33:51 Nat Larson Amherst MA GREATER SPRINGFIELD HARRIERS
2 34:32 Francis Burdett Worcester MA GREATER SPRINGFIELD HARRIERS
3 36:38 Ron Lombardi Southington CT GREATER SPRINGFIELD HARRIERS

4 ( 37:38) Alejandro Heuck Amherst MA GREATER SPRINGFIELD HARRIERS
5 ( 38:01) Peter Fratini Westfield MA GREATER SPRINGFIELD HARRIERS